So, you want to buy a great gift for your friend, spouse, or coworker. And their favorite pastime is hiking. But you're not an expert in hiking gear. With that in mind, I wanted to put together a guide to the best gifts for hikers in your life.
There's a lot of gear out there. And a lot of it might look cool or seem like great gifts for hikers in your life. But in reality, it may only weigh them down.
Keep in mind, it's the hike they love, not the gear. So if no value is added, the gear is useless. And you don't want to buy someone an "ankle weight" they don't need.
So whether it's gifts for hikers at Christmas or a gift for a hiker for their birthday (or just to be nice), this should help.
Remember, shedding ounces, sheds pounds. It's important that gear is lightweight. And not just for the "cool" factor.
Gifts for Hikers Just Getting Started [Or Any Level]
This person may be relatively new to the pastime of hiking. Chances are they are doing shorter and easier hikes. They need minimal gear. In fact, comfortable clothing and a good pair of shoes are all they need initially.
But there are still some helpful gifts for hikers that are beginners or just getting started.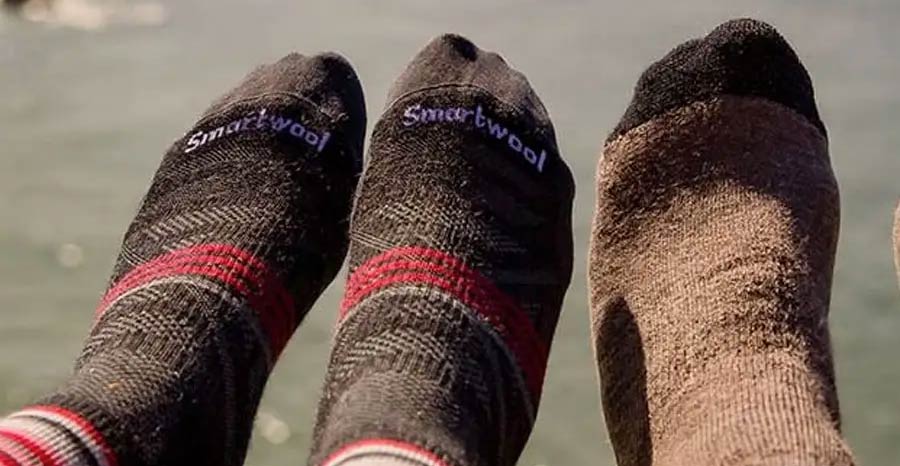 1. Socks
A good pair of socks on a hike is crucial. Decades ago, I used polypropylene and wool socks together. Technology has come a long way. Two companies that stand out in quality are Smartwool and Darn Tough socks.
2. Pants
It may seem obvious, but it's important that pants be loose and well made. Chafing is not acceptable on a long hike. And not everyone may agree, but pockets are important to me. I prefer cargo pants with side pockets that zip. That's where my keys, license, and a little cash go. Peace of mind goes a long way.
Also, even in hot weather, I hike in pants as a defense against "less agreeable" insects. I'm not too picky about the brand since eventually all pants wear out.
Believe it or not, the store brand for Eastern Mountain Sports as well as Carhartt have outlasted some of my more expensive trendy brands. Also, for the average person's hike (read novice hiker), the expensive fabrics will likely be overkill.
3. Subscription to a Hiking App
I know it's not technically gear, but a year's subscription to an app like All Trails or Gaia GPS hiking maps. There are copious amounts of apps that are helpful.
Most importantly, if they can download maps for direct GPS tracking. Which is very helpful when no cell signal is available. Also, the ability to find trails near them with ratings when they travel is golden.
4. Lightweight Pocket Knives
A good lightweight pocket knife that isn't intrusive to their pocket is great to have when hiking. There have been numerous occasions that I have used my everyday carry knife for various reasons when hiking. In other words, I'm always glad I had it with me.
It should be lightweight, have a clip, and has minimal protrusions. Since the idea is an inexpensive semi-decent quality knife that is not a collector's piece, it does not have to be the best of the best at all.
I've had great luck with Leatherman, Spyderco, or Kershaw. They suit my needs as inexpensive, decent quality, and unobtrusive.
5. Insect Repellent
I have not found picaridin based insect repellent to work as well as deet so you have two options. Deet based repellent or permethrin spray for clothing. Permethrin works well, but requires more work and planning to spray your clothing.
Ben's is a common brand for both. And of course, there's always Off Repellent brand.
6. Sunscreen
Look for something that's not greasy and zinc-based. Sunbum fits the bill and is easy to transport.
7. Iodine Tablets
You don't want to have to use these. But if you run out of water, are lost, and can find a stream, these tablets can render most freshwater safe to drink. They take the least amount of time to make water safe to drink. Potable Aqua is one of the more popular brands.
8. Electronic Hand Warmers/Phone Chargers
These are newer products on the market but can be really helpful when hiking in cold weather. The additional battery storage for your cell phone doesn't hurt either. Boneview makes a decent product.
9. A Lightweight LED Flashlight
There are so many brands on the market to choose from and many are just the same product rebranded. This may not seem like a good gift, but at some point, most hikers hit the trailhead before sunrise.
So a small, light flashlight that fits a side pocket is great to have handy. Good brands include Fenix or Streamlight.
Rechargeable is preferable. Carrying spare batteries is nice to avoid.
10. Headlamp
A headlamp can replace a handheld flashlight if you think this is more suitable for your hiking friend. Some of the more common brands are Black Diamond, Petzl, and Fenix. The keys are:
Quality build
rechargeable
lightweight
11. Moleskin
Yes, it might be cheap and simple. But for the treatment of blisters during a hike, it's invaluable. There's no need to get fancy. Any store brand or the commonly known Dr.Scholls
Best Gifts for Hikers That Are Seasoned
If you're shopping for gifts for hikers that are seasoned, it's important that you strike up a conversation about the type of hiking they enjoy. Get a feel for what they have or think would be helpful with the type of hiking they do.
It's likely they already have a lot of their own gear that they have refined over the years. That's why it's good to speak with them about their favorite hiking gear. They'll be even more particular about choices made than a novice hiker.
1. Trekking poles
Most hikers who use trekking poles speak highly of their benefit. I find them to be beneficial on occasion. Again, I'm an old school hiker and lightweight mobility is my priority.
If you decide to purchase these as a gift, make sure they're light and very collapsable. Black Diamond and Mountainsmith are two common well-made brands.
2. Tracking/mapping watch
These can be very costly, so if you don't have deep pockets, this is not a good gift. But if money is no object, this is a fantastic gift! Two of the more popular brands are Garmin and Suunto. If they track and map a hike, it's a great way to not get lost.
I use my old Garmin Fenix 5x a lot when hiking new territory.
3. Tracking system for emergencies
You can spring for something that pairs with their smartphone like a goTenna Mesh or a stand-alone 2-way satellite communicator. Garmin and Spot are two popular brands. These are very expensive options for gifts for hikers but offer serious peace of mind.
They also require service plans, so they may become the gift that "keeps taking."
4.Pocket water filters
If your hiking buddy goes into more extreme terrain, a lightweight water filter can make a great gift! A few more reliable brands include:
I suggest springing for one that can be cleaned without replacing the filter system.
5. Crampons
If your hiking friend likes to hike in the colder temperatures, a set of crampons can literally save their butts in icy situations. Two of the better manufacturers are Black Diamond and Hillsound.
A note about some gear that does not make good gifts for hikers
I wanted to incorporate a few items that do NOT make great gifts for hikers. The reason being, these items are based on very personal preference or fit. So avoid the items below when buying gifts for hikers.
1. Water bottles
It may not seem that obvious, but hikers are very particular about how manageable their water bottles are for hiking. Some only use bladder systems like Camelback. Although, I still prefer to use an old school stainless steel water bottle. It's comfortable to hold and easier to clean.
2. Backpacks
A good backpack for day hikes or long-range hikes is fit for the hiker. A lot of time goes into finding the right fit. And the feel/function of a backpack is very personal to the hiker.
3. Footwear
The same applies as above. The right footwear is VERY important and personal to a hiker. This is best left up to the individual and requires fitting, trial, and error. There is a no more important piece of hiking gear.
4. Rain gear
Most avid hikers are fine with doing a day hike in the rain with the proper gear. There's something liberating about hiking in the rain.
Back when I rode motorcycles, I used to always say "ride what you've got!" In other words, the gear didn't matter since it was just about getting out on the road and enjoying the ride. The same applies to hiking.
The Bottom Line on Gifts for Hikers
When buying gifts for hikers your safest bet is with the stables. Socks, pants, and other basic gear. Everyone can always use more and better quality.
You want to avoid items that are might be of personal preference. Such as shoes, backpacks, and other items that fit unique to the individual.
Get out and enjoy the hike. Some of the more fundamental gear (footwear in particular) will dictate the distance. But just getting out is more important.